The greenhouse in the garage
It is January so I recently started most of our seedlings for spring. The little greenhouse I made last winter in my closet got moved into the garage during our recent major clearing out. Last year I just used the enclosed space of the closet plus the closet curtain to keep it warm since the house was relatively warm anyway but now that it's in the unheated garage I needed to enclose it. A quick search for a roll of plastic that I swear I saw last week lead me instead to the box of drop cloths (old sheets). They seem to be working well. Growing in those flats are all the Solanaceae (except for some pepper seeds I got in the mail late) and the early spring planted greens (more of what was planted in the fall). In a week or so I'll start flowers, herbs, warm(er) weather greens, and a few other things.
tomato seedlings under lights
We've spent some time this winter taking down trees. There are a lot of trees on our acre and we aren't people who usually chop everything down but, after a while, trees die. We prefer to leave them standing because it's fantastic habitat for all sorts of creatures (and insects that creatures eat), particularly birds, but when a dead (or dying) tree is near the house or my son's play area we have to take it down for safety. Fortunately, most of the trees we have had to fell are the exotic invasive tallows. There is one pecan tree with significant rot extremely close to the house that is coming down once we get the bees moved out of the base. All these trees mean lots logs and branches. Our branch pile for the birds is already enormous so we're going to grind everything from this round of urban forestry into mulch. Wood from the pecan is great for cooking with not to mention woodworking so we'll save those but the tallows are not good for much of anything. They break down very very quickly and giant logs, within a few years, get so punky you can step on them and crush them to dust. That's a handy trait when you want to get rid of a bunch of logs! So, in a weird hugelkultur variation, we have created some new beds with the usual cardboard on the bottom, then filled with logs, and then densely packed with mulch in all the crevices. I'll gradually add amendments to this and in a few years it's going to be an amazing place for vegetables.
Greens from this winter's garden in the sink for cleaning.

Last summer we got some tree guys in the neighborhood to drop us off a double load of wood chips. Gradually the pile has diminished but now it's crunch time... we finally had a few frosts and warming weather is 4 weeks away so I need to heavily mulch (and amend) the entire vegetable garden before spring planting. The mulch pile will soon be gone (sad face!) but hopefully the spring leaf fall (yes, we have a spring leaf fall when all the evergreen oaks replace their leaves) will be a good one and there will be plenty of leaf sacks on the side of the road to replenish our mulch pile for the summer.
We are hoping to put in a few new fruit trees this year. Over the years we have planted 3 figs, 2 mandarin oranges, 1 loquat, and 1 kumquat. I hoping to get 2 persimmons, a plum or two, a limequat if I can find it, a lime, and a red grapefruit. We'll see what we can get a hold of.
My son became interested in helping me plant the fall garden. Planting onions was a favorite but he also helped plant mums and lettuces. I can't wait for his help this spring! He is also fond of participating in the mulching process. He has his own tiny wheelbarrow and if I fill it from the mulch pile, he'll dump it (sort of) where I want it. On a related note, I just love this image from Susan Fitch. She provided a whole series of lovely illustrations on her blog to make a chore chart! She has an even more extensive set for sale in her Etsy shop.
In Etsy related news, I sold lots of gift wrap this past year. My bows sell extremely well and I also started having sales of furoshiki wraps and drawstring gift bags. My ceramics were very popular but they are mostly sold out! New designs and new versions of old favorites will be coming soon. I'm also hoping to finally get the homemade extra strength vanilla listed (soooo delicious) and some herbal teas I made. More stuff is in the works for the shop this year so I'll keep you updated.
Last spring I got serious about upgrading my garment sewing skills. I have been frustrated for years by the ready to wear clothing available. It doesn't fit well (at least on me), most of it is made of synthetic fibers, and I generally don't like the colors or patterns on what does fit. I don't need a lot of clothes so I decided to sew my own. Afraid of the fitting involved in making woven garments, I wanted to learn to sew with knits. I made a few t-shirts for myself and a cardigan as a gift. With each project my skills improved so I'm encouraged! However I did start reading about fitting and I realized it's not rocket science, just math. Not that even the most experienced seamstresses don't experience problems with fitting but it's something I can learn. So I'm taking a break from knits in order to sew up a few woven blouses to wear this spring. By the time summer rolls around (and it rolls around fast down here) I'm wearing t-shirts and sleeveless blouses so I want to get these sleeved blouses done asap. I'm starting with Burda's Bib Blouse (in plus size!) which I'm going to mock up in a quilting calico I've had in my stash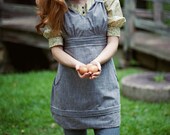 The Gathering Apron by Sew Liberated
for a while. As I learned (from experience and reading), quilting
fabrics from Joann's are not usually very good for clothing but it will work fine as a muslin and maybe it will be wearable enough that I'll get 2 versions when all is said and done! The second and third projects are from Sew Liberated patterns. The Gathering Apron should be a quick project. I need an apron that doesn't tie around my neck (that gives me a serious headache). I'll make it out of the remaining blue calico from the Burda muslin and line it with a mustard yellow broad cloth I've had for more than 10 years. Next will be a tunic length top made from the Ashland Dress. This one is going to be mocked up in some other random quilting fabric from my stash and once I get the fitting right, I'll order some nicer fabric and make a final version. Hopefully, if I fit these well, I'll end up with a collection of perfectly fitted patterns I can make repeatedly.
Just in time for all this sewing, Coletterie started the Wardrobe Architect Project for 2015. Basically you think seriously about what you actually wear, what colors you wear, and then create a limited but interoperable wardrobe often referred to as a capsule collection. I worked through last year's Wardrobe Architect series of posts and it really helped narrow things down. I created a Pinterest board to collect ideas, colors, patterns, etc. and then pared it down to a number of patterns I would like to make and then further limited the patterns to those that would work well together. It was a long process (my head cold was perfectly timed for all this computer work!) but really helped me develop a solid plan.